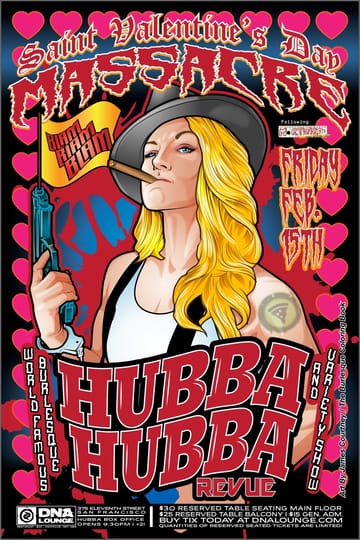 CALLING ALL CARS, CALLING ALL CARS! — Frisky flappers & gangster lover-boys seen congregating at DNA Lounge! Bring your sweetie & join San Francisco's world-famous burlesque revue for a high-caliber Valentine guaranteed to repeal Prohibition!
Featuring Jazz Age hijinx and bootleg BURLESQUE by
Aerialist Willow Wraith (Portland, OR)
Honey Lawless and Gigi d'Flower
Kitty Oaks and Leah Marie
Dem Foxie Femmes
The Itsie Bitsies
Kiki LaChanteuse
Tease Blossom
Edwardina Ghost
Mynx d'Meanor
Lulu Bon Coup
Dorian Dietrich
Siren Sapphire
Sugar Lee
Bunny Pistol
Vixi Vale
Jet Noir
The Fishnet Follies
Gorilla X
And the Hubba Hubba Go-Go Gun Molls!
Hosted by Mr. Bigfish and Alexa Von Gangsterface
And shakin' the speakeasy with racy rhythms
DJ LImbs Akimbo